Karen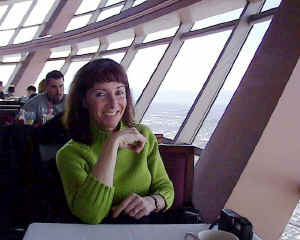 Born July 9, 1960
Parents: Chuck and Theresa
Sibling: Mike
Karen was born at St. John's Hospital in Detroit, Michigan. Her family then moved to Sterling Heights Michigan, where her parents still live today.
Karen went to Messmore Elementary School, Davis Junior High and Stevenson High School where She graduated in 1978.
Karen then attended Michigan State University, earning her Bachelors of Arts with a major in Advertising and a minor in French. She graduated in 1982.
After College, Karen took a full time job with The GAP at the company's Lakeside Mall location. Impressing the Mall Management with her industrious and creative marketing skills, Karen hired on with The Taubman Company and became the Marketing Director for Lakeside.
Her success at Lakeside impressed Corporate Management of Taubman and in 1993, Karen was promoted to Manager of Public Relations and moved to Taubman's Corporate Offices in Bloomfield Hills, Michigan.
Karen's continued contributions to Taubman have been rewarded with successive promotions to her current position as Director of Public Relations.
Karen's hobbies include shopping, golf, movies.